Huawei Sound
SKU/ID: 6913069908108 Specifications
Devialet 4-speaker Acoustic Design
Huawei Share
360 Degree Surround
Sale price
$279.00
Regular price
$329.00
Unit price
per
Sale price
$279.00
Regular price
$329.00
Unit price
per
Description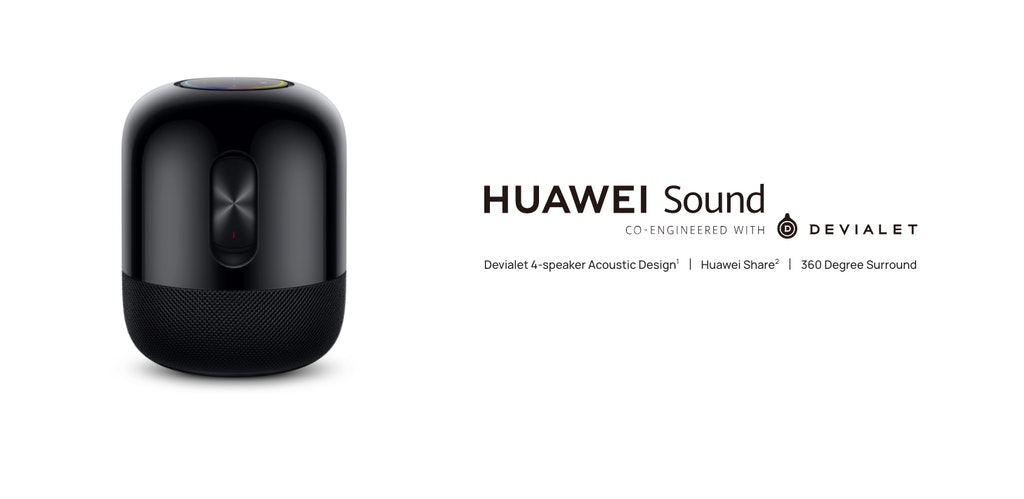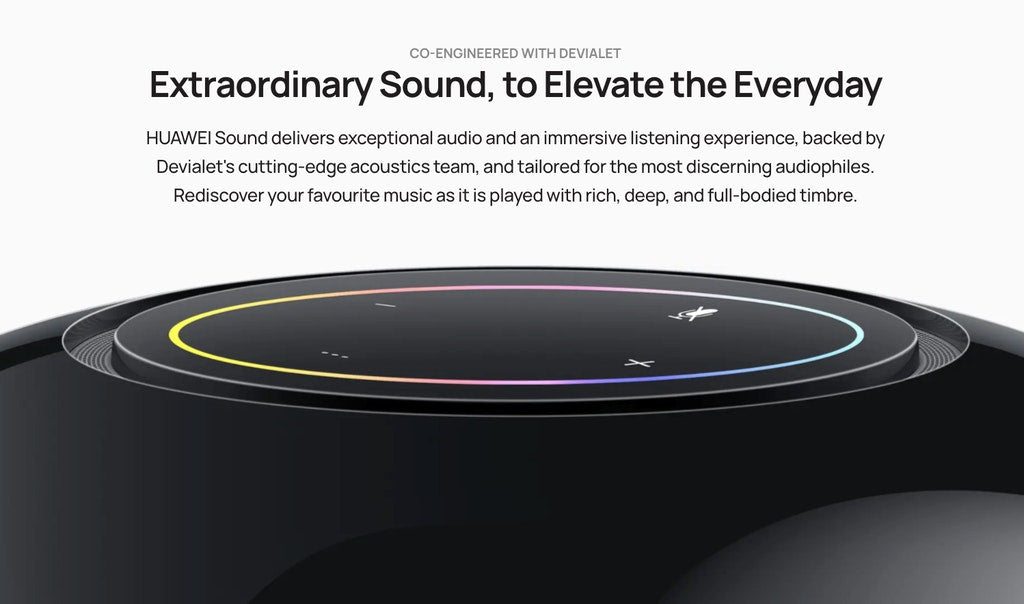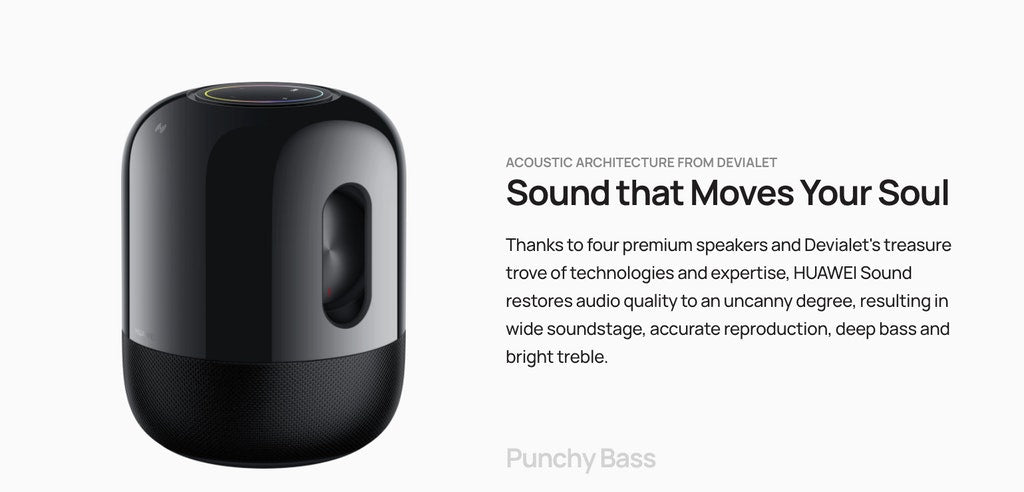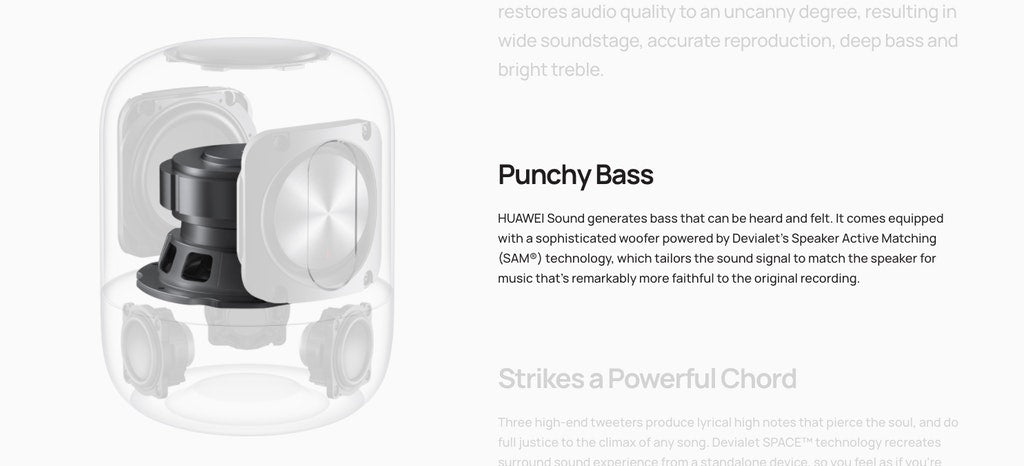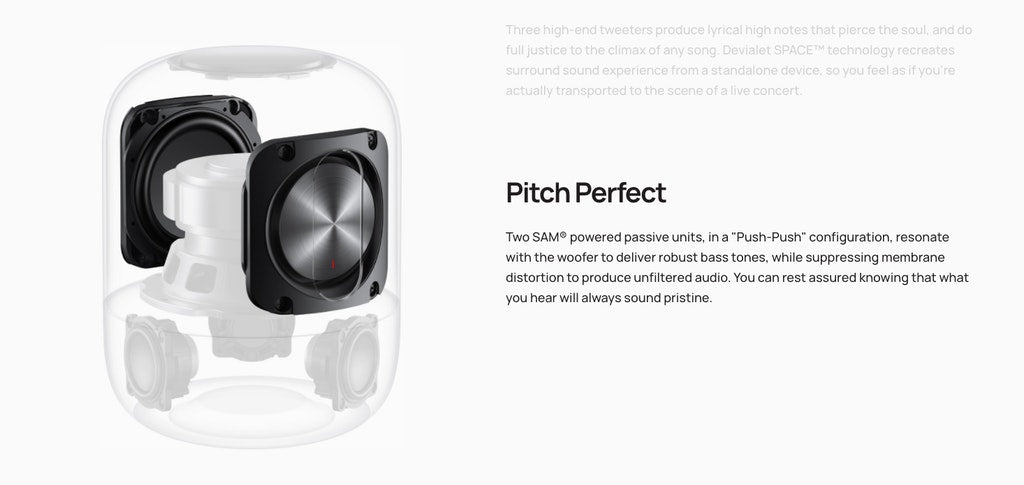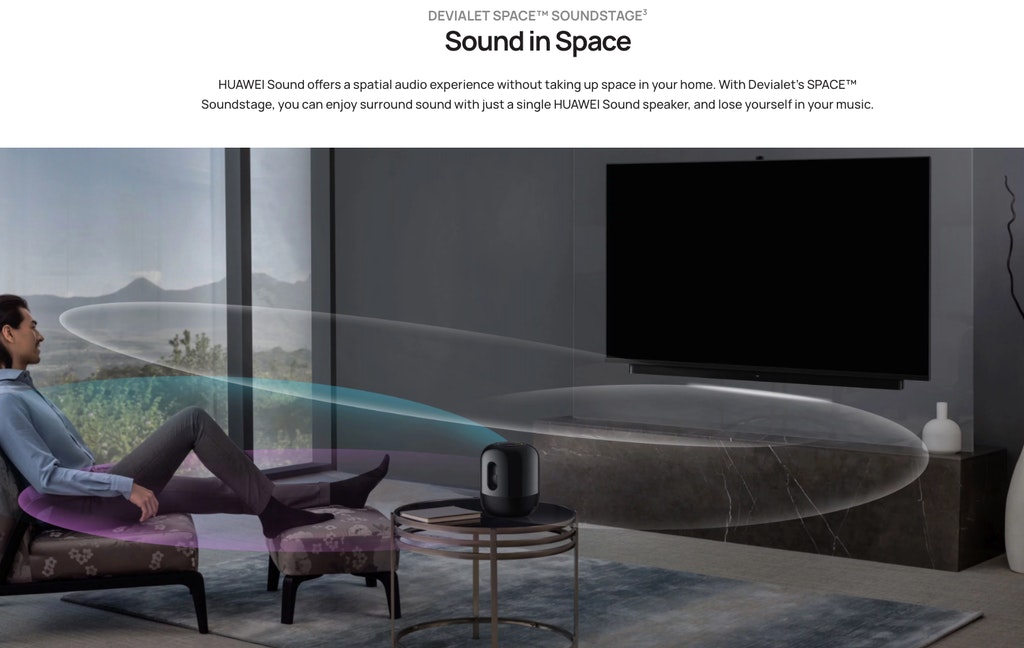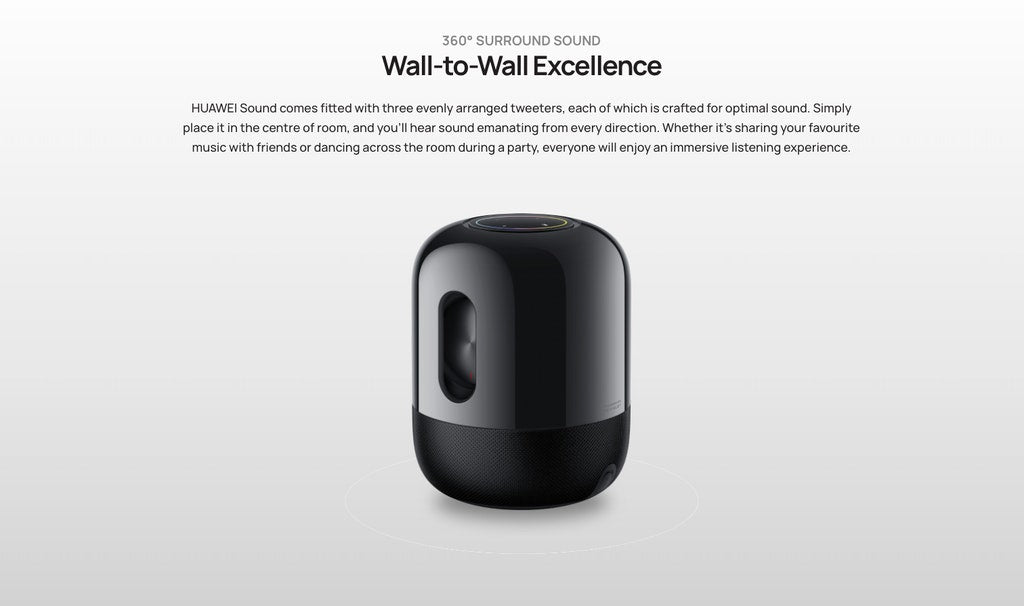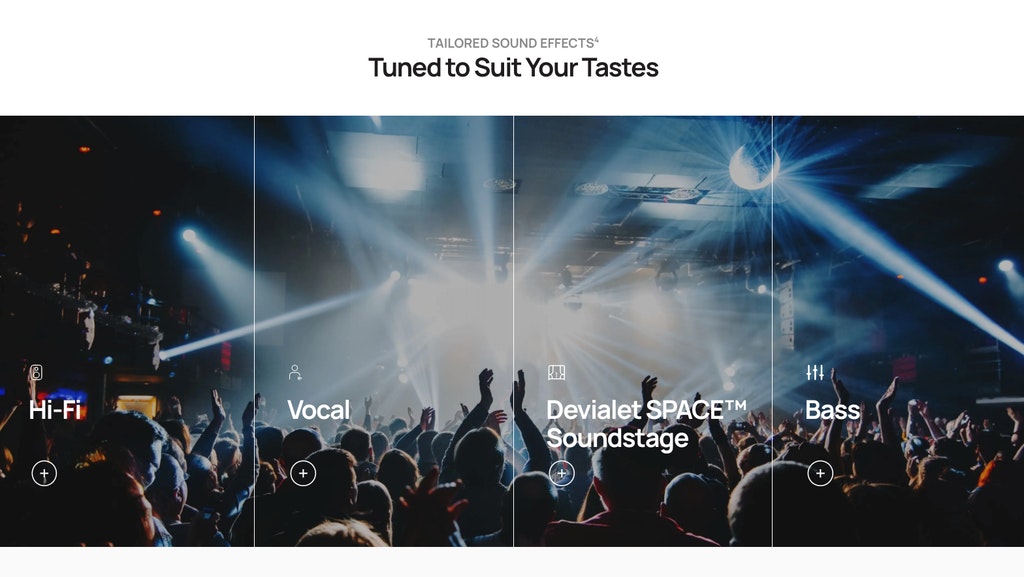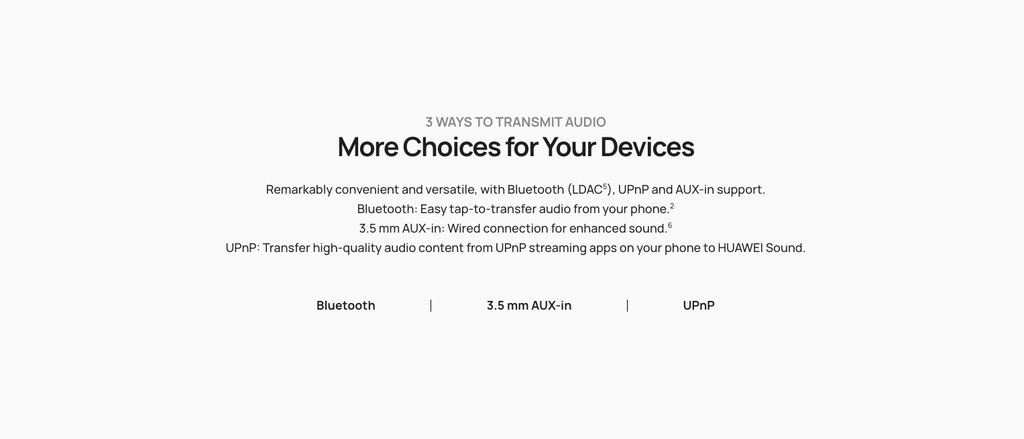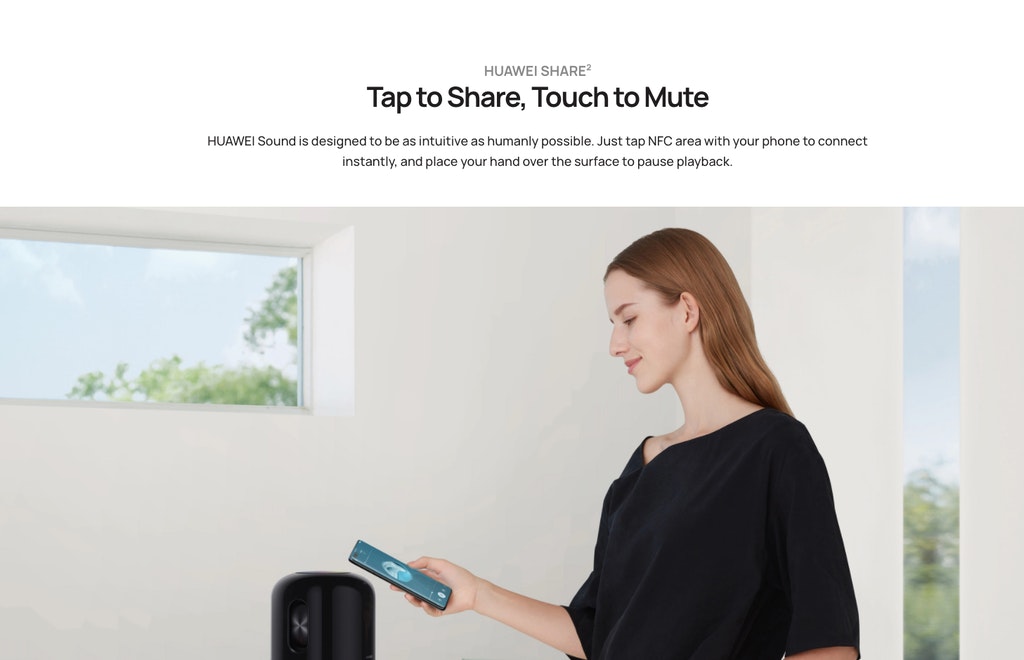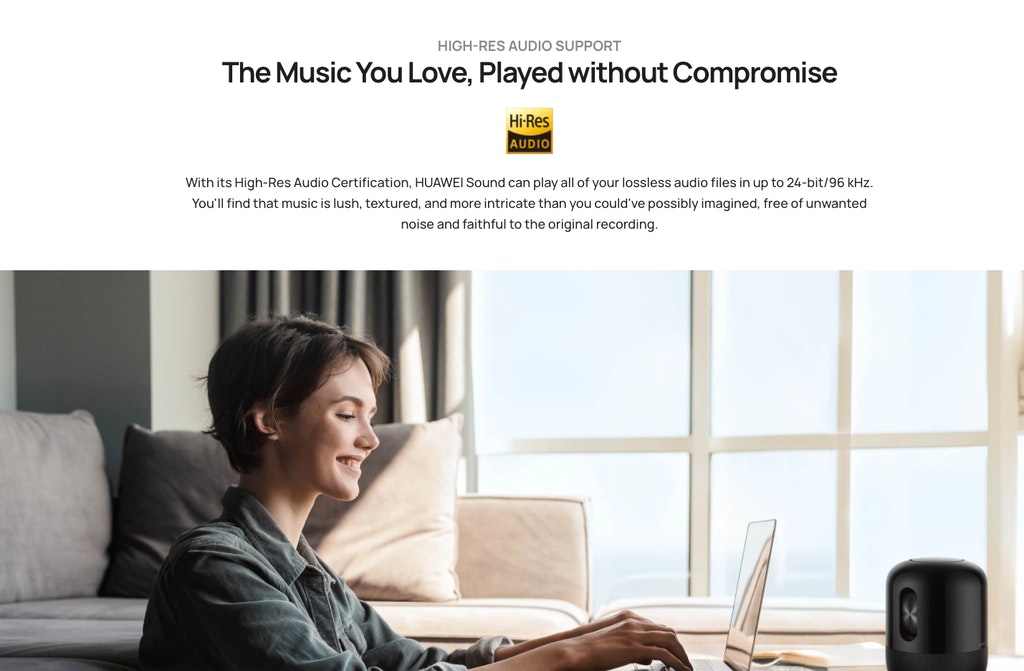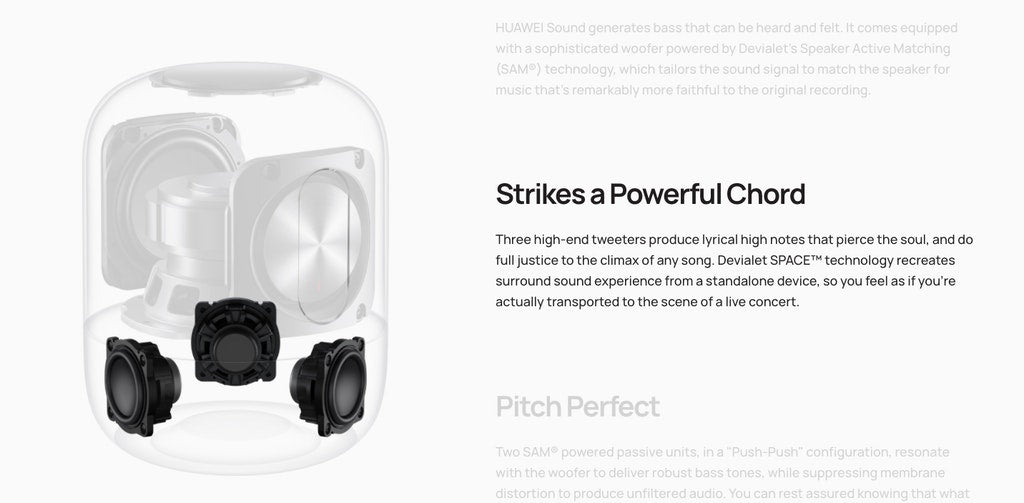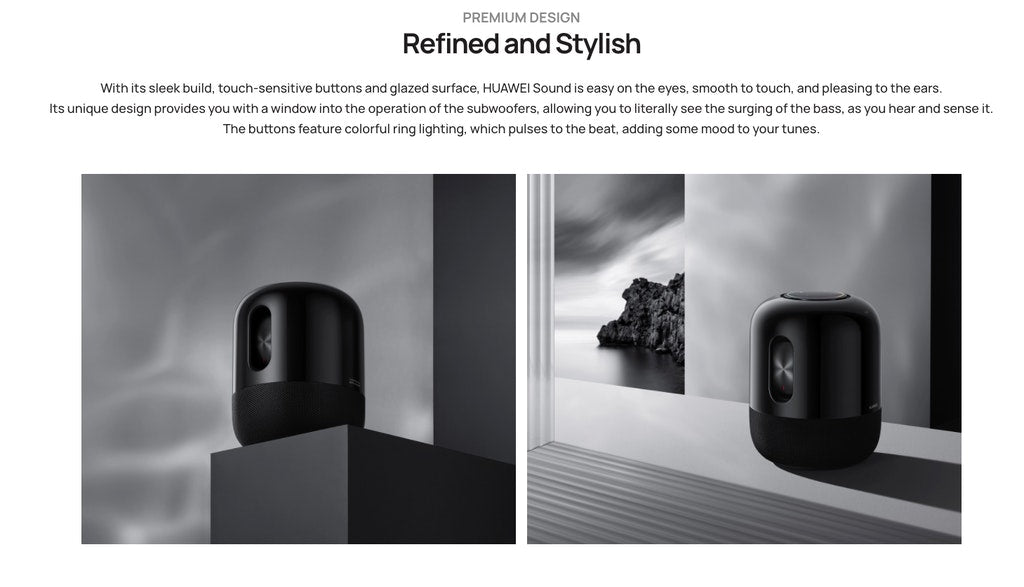 Includes Devialet's PUSH-PUSH Design, SAM® and SPACE™ technologies.
This function is only supported on Android phones that run Android 5.1.1 or later. Turn on NFC and keep your screen on when using this function. It is not currently supported on iOS.
You need to select Devialet SPACE™ Soundstage mode in HUAWEI AI Life app for this feature.
How to adjust sound effect: open HUAWEI AI Life app, choose "HUAWEI Sound", and then press the "Sound effects" button. Select an audio effect mode, or drag the "Bass" button to make adjustment.
LDAC is an audio coding technology (supported upon later software updates) that allows high-quality audio transmission over Bluetooth.
The 3.5 mm AUX cable needs to be purchased separately.
*HUAWEI Sound is not built with a battery. It needs to be connected to a power supply.
*Product pictures and display contents on the foregoing pages are provided for reference only. Actual product features and specifications (including but not limited to appearance, colour, and size), as well as actual display contents (including but not limited to backgrounds, UI, and icons) may vary.
**All data in the foregoing pages are theoretical values obtained by HUAWEI internal laboratories through tests carried out under particular conditions. For more information, refer to the aforementioned product details. Actual data may vary owing to differences in individual products, software versions, application conditions, and environmental factors. All data is subject to actual usage.
***Due to real-time changes involving product batches, production and supply factors, in order to provide accurate product information, specifications, and features, HUAWEI may make real-time adjustments to text descriptions and images in the foregoing information pages, so that they match the product performance, specifications, indexes, and components of the actual product. Product information is subject to such changes and adjustments without notice.
Specifications
Quick View

| Devialet 4-speaker Acoustic Design | Devialet SPACE™ Soundstage |
| --- | --- |
| Equipped with four premium speakers, a woofer and three tweeters, and loaded with leading acoustics technologies from Devialet. | Let you enjoy cinematic surround sound with a single standalone speaker. |
| 3 Ways to Transmit Audio | Huawei Share |
| Support Bluetooth (LDAC), UPnP and 3.5 mm AUX-in. | Intuitive control over your speaker. Tap to share, touch to mute. |
| High-Res Audio | Tailored Sound Effects |
| Play your lossless audio files without compromise. | Four sound effects for your choice: Hi-Fi, Vocal, Devialet SPACE™ Soundstage and bass. |

Dimensions

Diameter
147 mm

Height
186.7 mm

Weight
About 2200 g

*Product size, product weight, and related specifications are theoretical values only. Actual measurements between individual products may vary. All specifications are subject to the actual product.

Memory

512 MB RAM + 8 GB ROM

*The available internal storage may be smaller as part of the internal storage is occupied by software.

Speaker

Speaker Unit
1 woofer
3 full-range speakers
2 passive units

Frequency Response
55 hz ~ 40 Khz

Sound Track
Single track

Sound Effect
Devialet SPACE™ Soundstage, 360° Surround

Controls
Mute Key, Volume +/-, Multifunction
Lights
Connection Guide
Connectivity

WLAN
802.11 a/b/g/n/ac, 2.4 GHz and 5 GHz

Bluetooth
BT 5.0

UPnP
Supported

NFC
Supported

Cable
3.5 mm AUX-in

Temperature

Operating Temperature
0℃~40℃

Storage Temperature
-20℃~+70℃

Software
AI Life App
In The Box

HUAWEI Sound

Power Adapter &cable

Quick Start Guide

Wiper

Warranty card

*May vary in different market. Subject to the actual product. Contact the sales channel for a more detailed list.
Click & Collect

Order Online, Pickup in Store

After-sale

Convenient After-sale Service

Express

24 Hours Trackable Dispatching