Huawei Scale 3
SKU/ID: 6911828099212 Specifications
Know Yourself In More Details
Detailed Body Composition Analysis
Sale price
$99.00
Regular price
$129.00
Unit price
per
Sale price
$99.00
Regular price
$129.00
Unit price
per
Description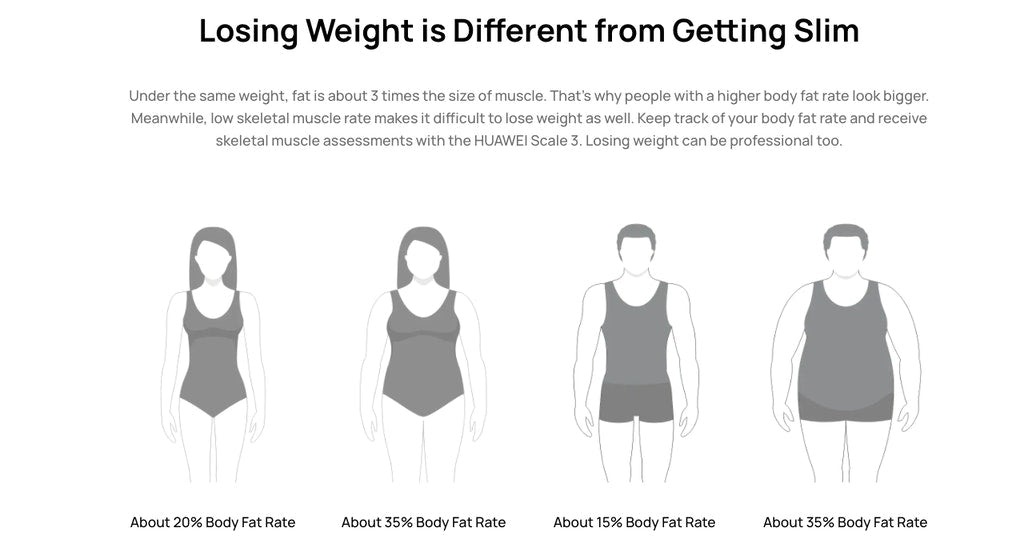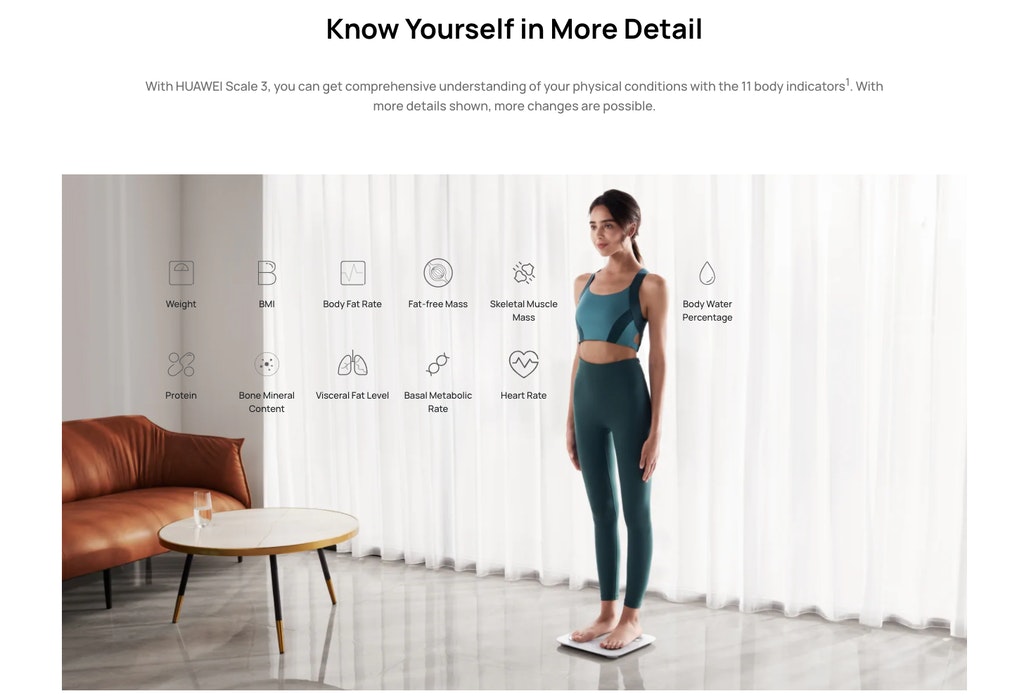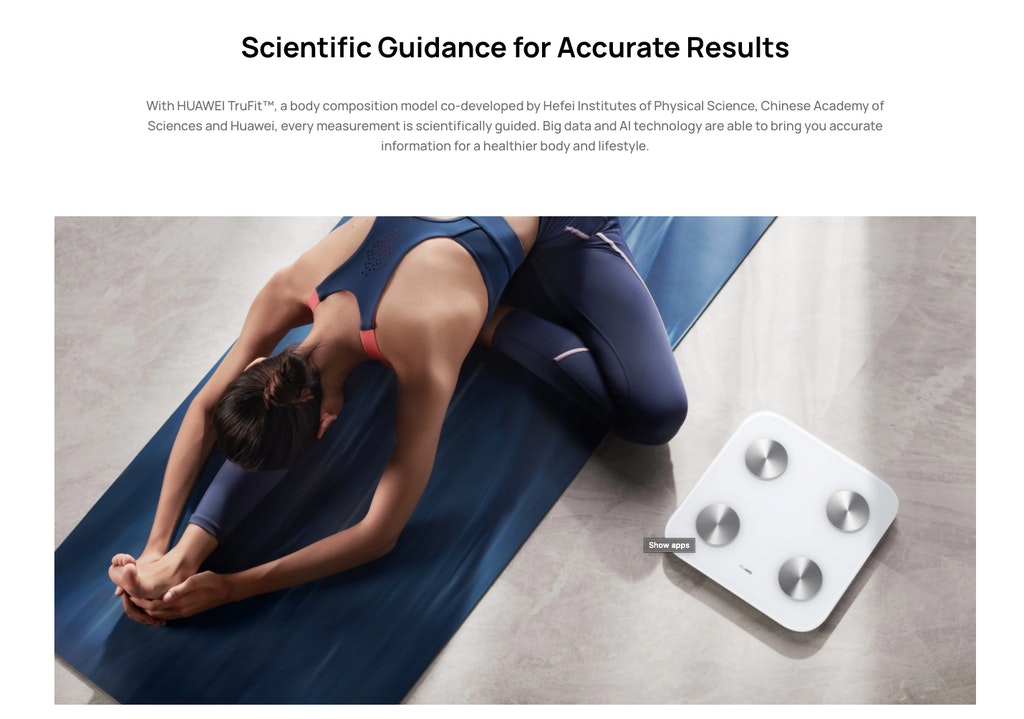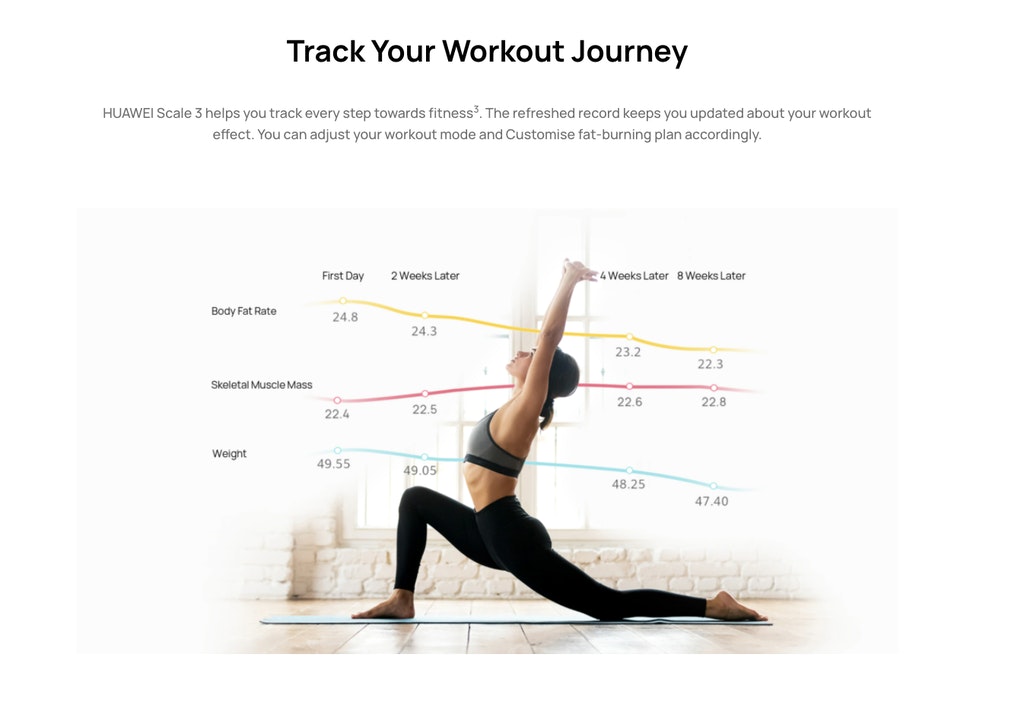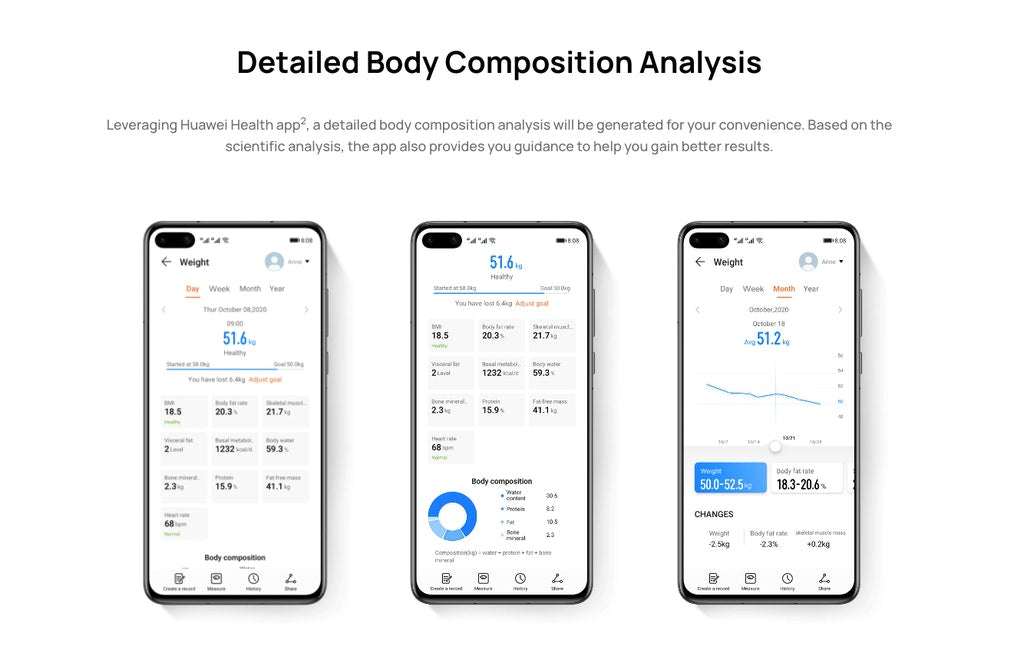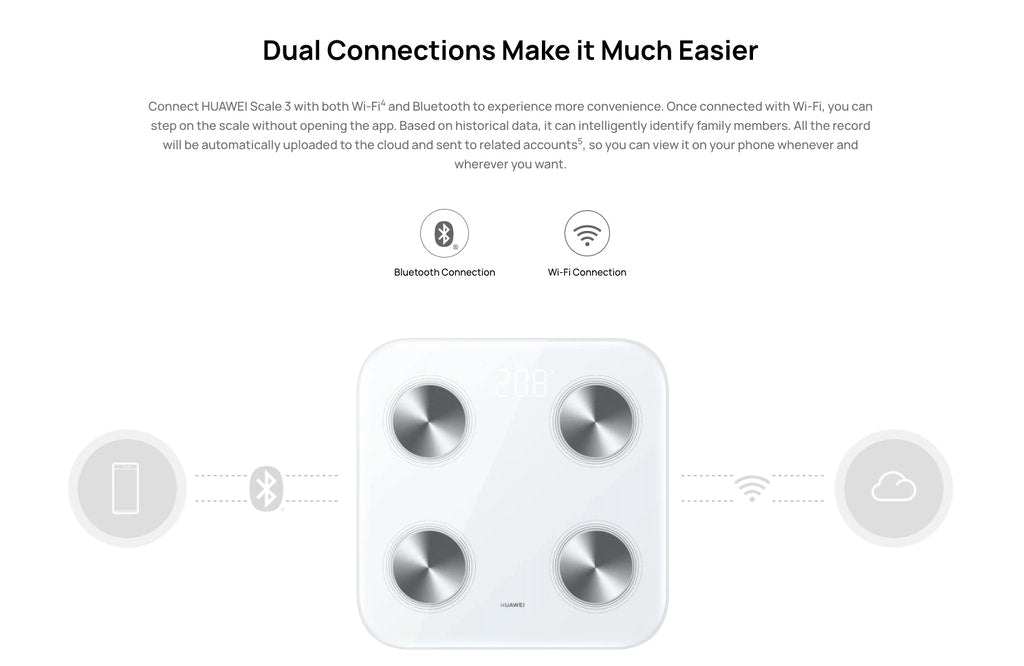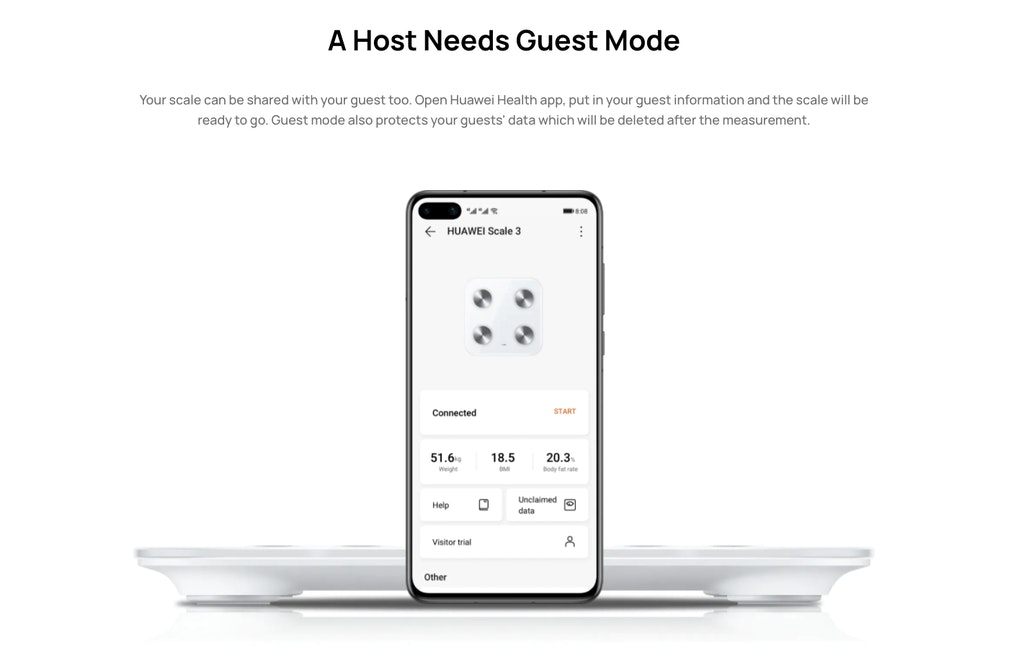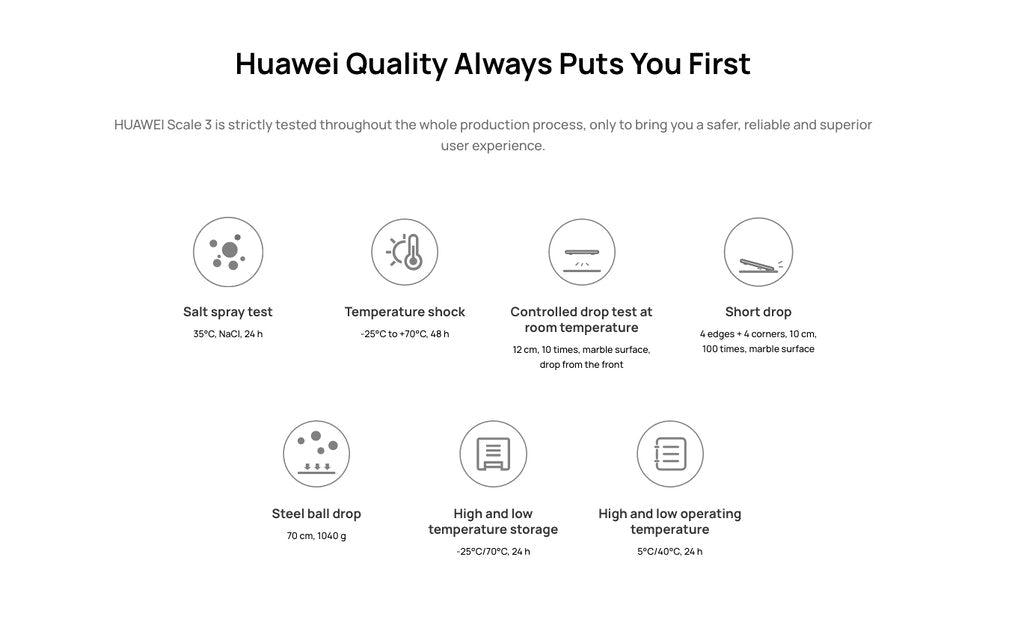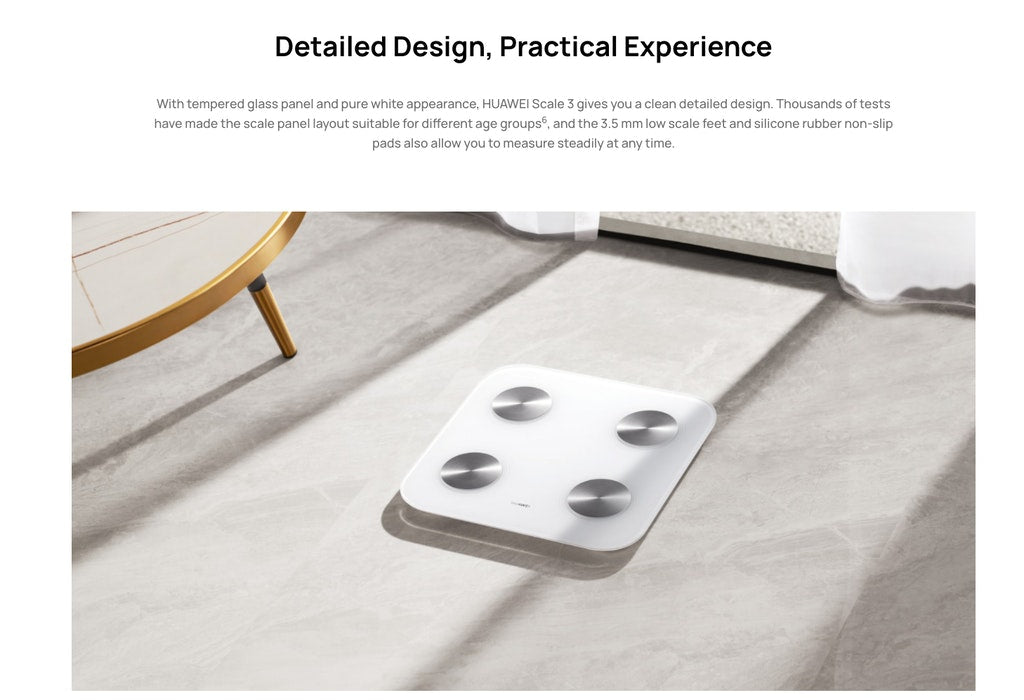 Weighing range is from 2.5 kg to 150 kg. Only supports weight and heart rate measurement for teenagers under the age of 18 and the elders over 65 due to their special physique.
*It is recommended that pregnant women and infants always have on footwear when using the device and use it for weight measurement purposes only. People with medical implants (e.g. pacemakers, cochlear implants etc.) should NOT under any circumstances use the device.
*Elderly people, patients with fever, and people who work in fitness or sports have large errors in body composition indicators due to their special physique. The only reliable information is weight.
*The scale is a non-medical device and is designed neither for medical use nor diagnosing, treating, curing or preventing any disease. All data and measurements should be used for personal reference only.
The heart rate is resting heart rate.
Huawei Health app supports Android 5.0 and above, iOS 9.0 and above systems.
The figure is only for illustration, the curve is derived from historical measurement data and the actual effect is subject to the app interface. *The data in the figure is only for illustration due to the differences between individuals.
The Wi-Fi support protocol specification: 802.11b/g/n.
Each scale can be bound to 10 HUAWEI IDs. The auto-recognition is an ideal state and it does not rule out that some users with similar constitutions cannot be identified.
The data comes from HUAWEI lab.
Specifications
Dimensions

Width
Height
Depth
300 mm
300 mm
23.6 mm
Weight
about 1570 g (excluding the battery)

*Product size, product weight, and related specifications are theoretical values only. Actual measurements between individual products may vary. All specifications are subject to the actual product.

Screen
Discreet LED display
System Requirements
Compatible with phones running Android 5.0 or later, and iOS 9.0 or later
Material
Tempered glass (weighing surface), ITO film (electrode, used for fat measurement), and ABS (device bottom)
Battery
DC 6.0V battery (4 x 1.5 V AAA battery)
Battery Lifespan

About 180 days (measurement frequency: three times a day)

*The data comes from Huawei labs. The actual duration may vary according to the usage.

Sensors
Resistance strain gauge pressure sensor
Connectivity

WLAN
IEEE 802.11 b/g/n, 2.4 GHz

Bluetooth
Bluetooth 5.0, and supports BLE

In The Box

Scale

Quick Start Guide

Safety Information

Warranty Card

*May vary in different market. Subject to the actual product.
Click & Collect

Order Online, Pickup in Store

After-sale

Convenient After-sale Service

Express

24 Hours Trackable Dispatching